Welcome to my family of Korats.
I hope you will enjoy browsing through these pages &
photographs of this unique breed from Thailand.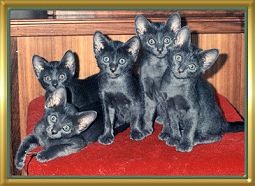 Our latest litter of 6 kittens was born on 05/04/2019.
Proud Mum and Dad are
Blumaew Desert Rose (Rosie) and Doklao Chanarong Zachary (Zac)
If you would love to be owned by one of these babies,
please contact Elaine now 0266777586 or 0414 851 079
if you would like one of these sweet babies to join your family.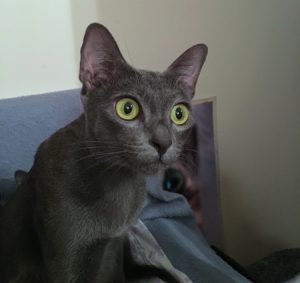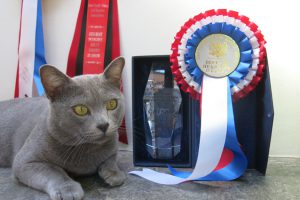 Rosie & Zac
Three of these beautiful boys are still looking for
their forever homes, click this link for photos
The  Beginning
My name is Elaine and I became a member of the Cat Association of the Northern Territory in 1985 and began showing two brown Burmese neuter brothers. Soon after I purchased a red Colourpoint Persian whom I showed as a neuter for several years throughout Australia.
I also served on the Committee of CANT in various positions for a number of years & am a Life Member of that Association.  I have qualified as a Steward & have acted as Show Manager / Assistant Show Manager at several shows in Darwin.
Prior to becoming a breeder I worked at a Veterinary Clinic for 2 years gaining an insight into Animal Husbandry.
In 1989, Harry & I traveled to the UK to choose my first breeding pair, a Stud male) "Charlwin Boeotia"  &  my Queen "Koorahk Eirlys".  Their first litter born in January 1991 produced 5 Females and so Ratchasima (Aust) Cattery was established in Darwin.
1991 also saw the arrival of another female from the UK "Jenanca Serena" a very beautiful girl who represented her breed exceptionally well on the show scene for several years.
Following another journey to the UK & Norway, another Stud boy, "Koorahk Binkys Boy", his half  sister "Koorahk Ianthes Gift" from the UK, along with "Pimai Wan Nanda", our Norwegian girl, came to live with us in 1996.
Then in 1999, "Koorahk Phai Lin" came to us from the UK.   In 2007 we welcomed "Lucky Jumpo Jim" & "Nikelsilva Sinead" into the Ratchasima family.
Ratchasima (Aust) Korats are now situated in Northern NSW.
Over the past 21 years these wonderful boys & girls have provided  the basis on which Ratchasima (Aust) Cattery is able to produce temperamentally sound, quality Korats.
I am eternally grateful to Helen Hawkins (Koorahk Cattery), Muriel Hoskins (Charlwin Cattery), Jen Lacey (Jenanca Cattery), Elfie Kleive (Pimai Cattery, Norway), Helga Lokoy (N) Dala Speed Cattery (Norway), Cathy Nichols Nikelsilva Cattery (UK) & and Cathy Arend  Cherri Creek Cattery (USA ) for putting their trust in me & enabling me to use their lines for the breeding of my Korats.
Also my husband who has always given me his utmost support throughout the years.

About the Breed:
The Korat (Koh-Raht) cat originated from the high plateau of Northern Thailand.
The breed has never been out crossed with another breed & as such is one of  the few remaining pure breeds in the world today.
The Korat is a medium to small breed, with the males being larger than the females.  Although small, the body is very muscular & strong.  The coat is short, singular & close lying.  The coat colour is blue & can vary from silver blue to a darker shade of blue.  The head is heart shaped and the eyes are large & round.  Kittens have amber coloured eyes, turning to green as the cat matures.  This can take anything up to 2 or 3 years.
Vocalization varies widely but generally Korats are quiet, only alerting you when they are not happy with something or they are in need of your attention.
Korats are a very active, intelligent and loyal cat who thrive on human company.
They make wonderful companions and are ideal for those who live in an apartment.
They are also good with children but not babies.  Korats can be trained from an early age to play fetch and walk with a harness and lead.  They will live quite happily with another breed but because of their need to elevate themselves to No.1 position, they are not recommended for those who have a multitude of another breed.  They are  very territorial.
Korats are sold with a Sales Pledge that, among other things, requires a new owner to make sure the Korat is kept indoors unless under strict supervision.
It is not unusual for a Korat to live beyond 15 years given good care.
Enquiries can be made to:
Elaine Vincent
Tel:  02 6677 7586